The Annexe,
the new exhibition place
The Annexe is the new exhibition place in Lorient
adjacent to the Cité de la Voile. 
SUPER HEROS
BODY
8th April - 15 August
Exhibition
For the whole family (from age 6)
Duration: about 1 hour and a half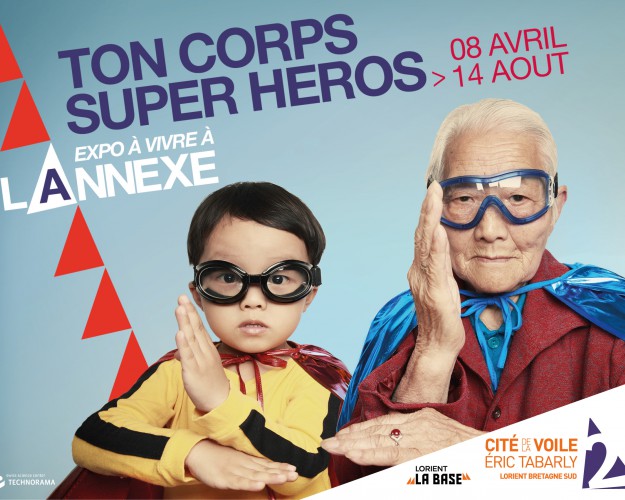 Discover the science behind
your Super Hero Body !
We breathe and walk and shout and jump and see... in short, we're alive. But do we really understand our own body's surprising mechanisms and unexpected abilities? Let yourself be surprised by the person you think you know best: yourself! 
The "Super Hero Body" exhibition invites you to explore the fascinating world inside your body, a world that is full of surprises!
How loud is your shouting in decibels? What is your lung capacity? Your reaction speed? Over the course of a fun, dynamic anatomical exhibition, you will discover and experience the main physical and sensory principles of the human body.
Science can be a piece of cake! 
This trilingual exhibition is brought to you by Technorama (Swiss Science Centre) and curated for the Annexe of the Cité de la Voile Éric Tabarly by Atelier Laurence Moreau. Exhibition made up of 21 interactive parts. ​
Une exposition ludo-anatomique en 3 séquences
Mon corps en mesure
Séquence 1
Le corps surprend et questionne. Vous vous frottez à sept modules interactifs pour mesurer et comparer. Vous visualisez ainsi la chaleur dégagée par le corps, vous observez votre capacité pulmonaire, vous appréhendez la quantité phénoménale de sang pompée par notre coeur...
Mon corps en mouvement
Séquence 2
Testez les capacités du corps en action ! "Dans la boîte à cri", vous découvrez le volume sonore maximal auquel vous pouvez parvenir. L'incroyable "Eye Tracker" vous dévoile le mouvement de vos yeux. Autant d'épreuves simples pour comprendre, grâce à la pratique, la complexité de nos mouvements...
Mon corps a de l'esprit
Séquence 3
Le corps sert aussi à penser ! Interactif, le corps s'exprime, ressent, communique en fonction de son environnement. Par le jeu et la manipulation, mesurez votre temps de réaction, évaluez le temps, le chaud, le froid, testez vos capacités à réfléchir avant d'agir...
EXHIBITION ONLY

Children
under 3 years
FREE
Children
3 to 6 years
FREE
Children
7 to 17 years
€4
Adults
€6
Families
2 adults + 2 children +
 €17,30

EXHIBITION + CITÉ DE LA VOILE VISIT

 
Children
under 3 years
FREE
Children
3 to 6 years
  €3
Children
7 to 17 years
  €11
Adults
  €15
Families
2 adults + 2 children +
  €45
More things to see and do !