From April to September, and during the autumn holidays, the Cité de la Voile Éric Tabarly invites you aboard a real yacht for an unforgettable sailing trip. This offer 'All aboard' is an option that may be combined with the visit of the Cité de la Voile
Practical Info
A sailing trip
with a professional skipper
1 hour tour
Combined or not
with the Cité de la Voile visit
Opening hours
April to september
& autumn holidays
Please sign up at the reception
desk the day of your visit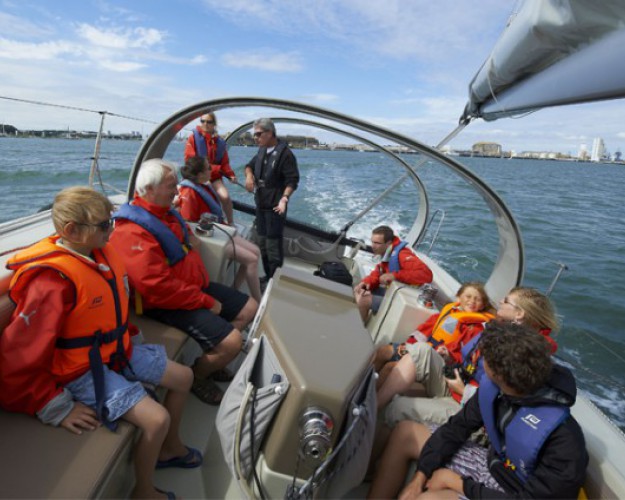 A sailing trip with a professional skipper!
For groups of around ten people, you will step on board our KAIDOZ 31 and, accompanied by one of our skippers, leave the pontoons of the Cité de la Voile Éric Tabarly behind you for a sailing tour that has the splendour of the Citadel Port Louis and the Ile de Groix as its backdrop… Our skippers adapt to their public: from demonstrations to passenger participation in manoeuvres depending on the experience and the desires of the individuals aboard.
This hour-long sailing trip is a unique discovery of the Lorient roadstead, informative commentaries and practical exercises: identification of the different buoys, priorities, etc., in order to validate the newly acquired knowledge of the sailor apprentices.
 

Children
3 - 6 years (from 1,20 m)
€15
Children
7 - 17 years
€15
Adults
€18,50
Families*
2 adults + 2 children
€55

WITH PASS NAUTISME

Children
3 - 6 years
€2,79
Children
7 - 17 years
€21,87
Adults
€27,90
Families*
2 adults + 2 children
€92
*Max. 6 people
EQUIPMENT
The Cité de la Voile provides you with the appropriate equipment: life jackets, windproof jackets, lockers for your belongings.
CONDITIONS
Be able to swim, child + 20 kg and + 1.20 m.
DEPART A minimum of two adults. 
PASS NAUTISME
This Pass includes a visit to the Cité de la Voile + a sailing tour and/or a visit to the Offshore Racing Centre.
MORE THINGS TO DO
Offshore Racing
Accompanied by a guide, discover the leading European Offshore Racing Centre and approach the different boats.