THE SAILING CAPITAL
Located in the heart of the Offshore Racing Centre, the Cité de la Voile Éric Tabarly is the symbol of the reconversion of the former submarine base, the mecca of the sailing world. Today, the most innovative nautical industries rub shoulders with the most prestigious offshore racing teams as well as being home to prestigious yacht races such as the legendary Volvo Ocean Race.
Practical Info
Guided tour
of the pontoons
Length : 1 hour
Combined or not
with the Cité de la Voile visit
Opening Times
From May, 18th  to 21st
daily
Summer holidays
daily at 5 p.m.
also at 2:30 p.m. from July 24 to August 20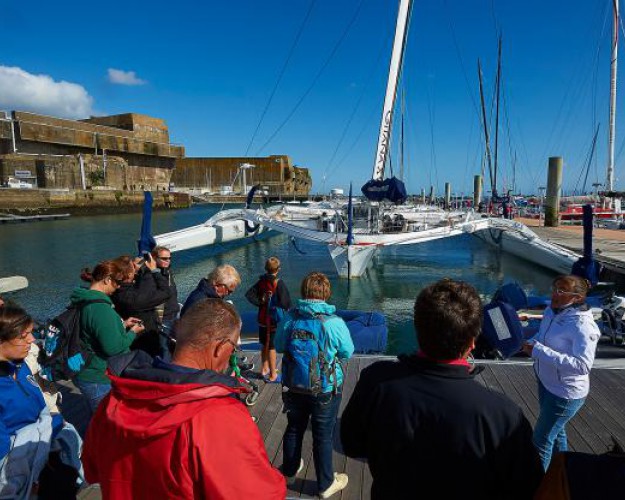 Guided tour of the Offshore Racing Centre
In July and August, discover the leading International Offshore Racing Centre. Join our guides for a tour of the pontoons at the Offshore Racing Centre.
See Vendée Globe racing yachts, maxi trimarans and Figaros as well as the mini 6.50. Immerse yourself in this incredible world of round the world racing! Which boat for which race? Which skipper holds which record?
Description of the visit
A general presentation of the site with a brief historical overview, the reconversion of the former military base into the sailing capital of Brittany, different companies located on the site.
The guides recount stories about nautical news, offshore racing, the different teams (Team racing) and racing boats.
Training site and home port of the most impressive ocean racing machines, Lorient La base has become the place in Morbihan where distinguished sailors prepare for their race: Groupama and Franck Cammas, Banque Populaire and Loïck Peyron, StMichel-Virbac and Jean-Pierre Dick…
The most famous sailors benefit from the use of our dedicated infrastructure and the industrial base that brings together the competencies necessary in boat design and construction as well as the training and preparation required by the skippers.
"À LA CARTE"

Children
3 - 6 years
FREE 
Children
7 - 17 years
€3,40
Adults
€6,80

PASS CITÉ DE LA VOILE + TRIP TO THE RACING CENTER

Children
3 - 6 years
€3
Children
7 - 17 years
€10,10
Adults
€18,25
DESCRIPTION OF THE VISIT
Adjusted in function of the team's planning's.
WEATHER
Visit subject to weather conditions.
PASS -10% AND -15%
The Pass includes the visit of the Cité de la Voile + the trip to the racing center and gives you a discount of 10% (by making an additionnal visit, a discount of 15% is granted).
MORE THINGS TO DO
Sailing Tours
Embark on board a sail boat with a professional skipper and discover the joys of sailing on the open sea.